Transcutaneous Electrical Nerve Stimulation "TENS"
Helping people manage their pain
GSM has provided TENS units to thousands of patients whom have benefited from the reduction of their pain level. TENS is a non-narcotic and non-addictive alternative to pain medication.
GSM will provide the GSM HD Combo unit with the order from your doctor. These units work by transmitting electrical pulses through electrodes to the pain location.
Golden State Medical will provide:
Free delivery and set-up in the patient's home or medical facility.
Education in equipment operation to ensure optimum treatment results.
Prompt pick up of the medical equipment at the patient's home upon completion of treatment.
Our office staff pre-authorizes insurance benefits and completes all paperwork necessary for third party billing, including Workers' Compensation, private insurance, Medicare and Medi-Cal.
We have personnel on call 24 hours a day should our clients need assistance.
TENS Units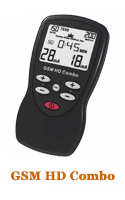 GSM HD Combo TENS Unit
Pain Control Management and Rehabilitation Therapy in one powerful, easy
to use device
More Information & Downloads
Click on the links below to download a Pdf.
Additional Electrical Stimulation Units
Click on the links below to download a Pdf.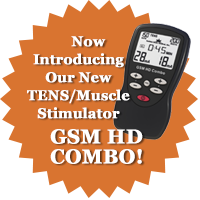 Request more information about our TENS units