Intelect® Legend Combination
Intelect is a name the clinical rehabilitation community relies on for electrotherapy. The Intelect Legend Stimulator, Combination and Ultrasound units are well known for their exceptional clinical performance, durability, and ease of use. Four Channel Combination System, Four Waveforms (Interferential, Premodulated, High Volt and Russian), Ergonomic applicators, Electronic Signature™, 1 and 3.3 MHz, 10%, 20%, 50% and Continuous Duty Cycle.
Electrotherapy is the application of electrical stimulation transmitted through the body via electrodes for therapeutic purposes. With electrotherapy, the current flows through the body from one electrode to the other and causes different physiological reactions, which are determined by the type of current selected, the parameters of the selected current and the output intensity.
Ultrasound is a mechanical stimulus delivered to the body by means of an ultrasound beam emitted out of an applicator. This ultrasound beam is generated in the ultrasound head by means of a crystal and transmitted to the body through the aluminum surface of the head and contact medium. Therapeutic ultrasound has a frequency range between 1 and 3.3 megahertz (MHz).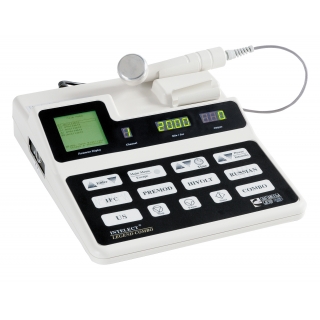 Request Product Information...